Are we prepared for the next food trends and challenges?
FIRST ANNOUNCEMENT
We are delighted to inform you about the upcoming AOAC Europe – SFC Symposium 2021. This symposium will be held as an online conference but if the situation allows it we will offer a hybrid meeting with site events. Please take a look at the preliminary program and the impressive list of confirmed key note speakers and speakers.
Dates: 1-2 July 2021
Place: Online conference
(if travel restrictions allow, we will offer a hybrid meeting with on site-events in Neuchâtel, Switzerland – decision mid April '21)
PRELIMINARY PROGRAM
Session 1: What are the new trends for food?
Session 2: What is the regulatory environment for the new challenges?
Session 3: Is our analytical method portfolio fit for purpose?
Session 4: Challenges in regard to emerging hazard
Confirmed Keynote Speakers:
Frans Verstraete, EU Commission, Brussels, BE
Jens Sloth, Technical University Denmark, Copenhagen, DK
Chris Elliott, Queen's University Belfast, UK
Confirmed Speakers:
Frederic Baudouin, Ingrid Undeland, Erwan Engel, Guillaume Duflos, Nicola Colombo, Anton Kaufmann, Estelle Dubreil, Joe Boison, Thomas Gude, Gaud Dervilly
Vestibulum rhoncus consequat aliquet. Mauris varius posuere mattis. Duis vitae molestie arcu. Curabitur sollicitudin, velit ut eleifend auctor, nibh orci pharetra risus, a malesuada nisi felis vel turpis. Aliquam fermentum nulla felis, sed molestie libero porttitor in malesuada nisi felis vel turpis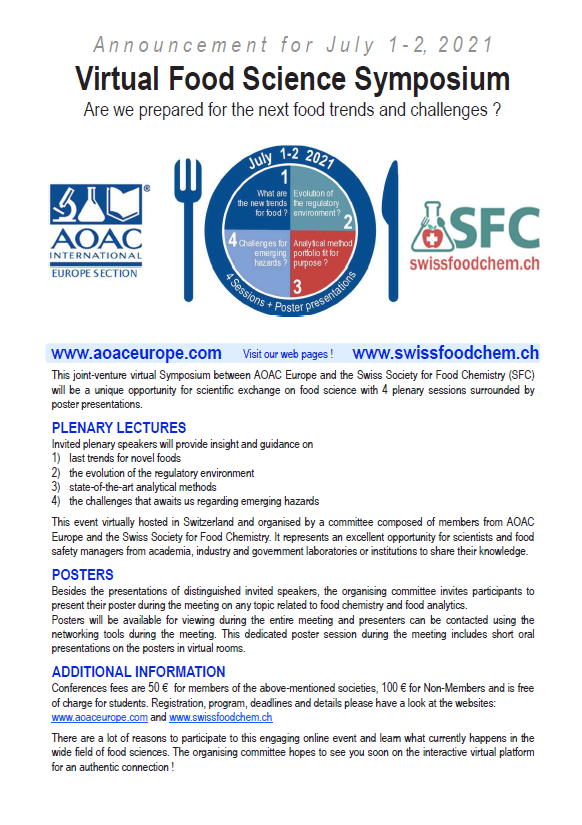 Posters: General Food Chemistry, Food Microbiology and Food Analytics Topics
Poster presentations related to Food Chemistry, Food Microbiology and Food Analytics are warmly welcome to be submitted for presentation in the meeting. We offer a modern online tool for posters with a possibility of short oral presentations for selected posters.
CONFERENCE FEES:
50 € for Members*
100 € for Non-Members
Students free of charge
*members of AOAC or SFC (Swiss Society for Food Chemistry)
Conference fee for potential on-site attendance will be adjusted accordingly.
REGISTRATION:
Register now for this symposium and click here!